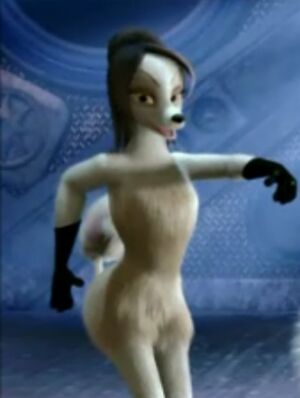 Diamond
Background Information
Feature films
Roadside Romeo
Shorts
TV shows
Video games
Books
Roadside Romeo comic book
Voiced by
unknown
Character Information
Species
Poodle (Dog)
Gender
Female
Also known as
Appearance
Beige fur, light amber eyes, dark brown hair, black gloves, white fur on her arms, fluffy torso and thighs, large puff at the end of her tail
Fate
Is alive and still dancing
Quote
[Source]
Diamond is a poodle who posed as a backup dancer for both Romeo and Laila in their music video scenes of Roadside Romeo.
Biography
Edit
Diamond has no dialgue throughout the movie other than "Ooh's" and "Aah's" during the music video sequences. She is easily distinguished by the large puff of fur at the end of her tail. Diamond appears in the Main Hoon Romeo, Chhoo Le Na, and Cool Cool music sequences.
Personality
Edit
Nice, Sweet, and Determined.
Relationships
Edit
She has a fraternal twin sister named Katy. They sometimes fight, but eventually they make up and act like it never happened.
Clothing/Outfit
Edit
Gloves